A full service digital marketing agency
Our team develops effective online marketing campaigns for forward thinking companies. We have a proven track record in increasing search engine traffic and its profitability for any business size.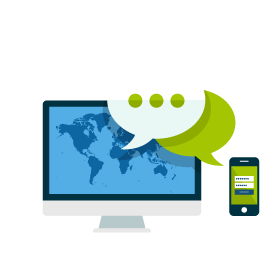 We pursue relationships based on transparency, persistence, mutual trust, and integrity with our employees, customers and other business partners.
Our team of specialists consistently delivers outstanding results combining creative ideas with our vast experience. We can help you build a sustainable, meaningful relationship with your clients by engaging them with your brand using social media.
We work in areas as diverse as search engine optimization, social media marketing, email marketing and growth hacking/CRO.
O U R    V I S I O N
The most respected Internet marketing agency. We want to change the way businesses speak, listen and share online.
Milestones
Some remarkable events our digital marketing agency went through.
March, 1997

Agency started by web enthusiast Alex Suprun in Haifa, Israel.
October, 2001
We developed the first fully-automated PPC Management solution for one of the biggest gaming companies
May, 2004
Facilitated 500% revenue growth in 3 months for Empire Online, which allowed the $15 Mln. company to raise $790 Mln in shares
May, 2013
Increased RivalSpot website traffic by 400% and number of leads by 230% in just 4 months
May, 2016
Our Luxury Travel Agency Client is spending 200,000$ per month with us across Google and Bing Paid Search channels, after we achieved 300% ROI growth at the end of 2013 fiscal year
August, 2017
Tripled online sales for one of the top US furniture chains
March, 2020
Planned, started and managed Top US Secondary Mortgage provider's Facebook Ads, which led to 35% average month-over-month leads growth.
July, 2020
Developed a unique, time-efficient SEO strategy which does not require website changes. It is based on link-building multi-tiered system of the constantly diversified links, resulting in constant increase your website traffic in a safe manner. This framework gives your Business a sustained increase in traffic in the first few months already, mostly unaffected by changes to search engine frequently fluctuating algorithms.